Restaurants in Stockholm
We had a definite advantage in our Stockholm restaurant search. Our friend, Johan, whom I mentioned in an earlier post, spends a ton of time in Sweden. His family has a home in Stockholm. He knows the food there. Additionally, another friend, Elizabeth, spent a month there for work and fell in love with the city. She also knows the food there. Most of our meals were based on their recommendations.
Dinner Spots:
Because we were all so tired, we decided to keep the first meal easy. We made a reservation at the Veranda restaurant at the Grand Hotel, which was well known for serving a traditional smorgasbord dinner. Yes, that is a real thing, a classy take on a Golden Corral experience in many ways (if Golden Corral served eight varieties of pickled herring).
I'm mentioning the smorgasbord because I think you just have to do it once if you're in Sweden. It's traditional. It's elaborate. It's enormous. And, apparently, Veranda is really the best place in town to do it.
As for the food, there were highs and lows. I think herring is an acquired taste, and I simply haven't acquired it. But there were all types of salads and cured meats, including some of the most spectacular smoked salmon I've ever tried. There were warm dishes of lamb, chicken, beef, fish — you name it. We got our first introduction to Swedish potatoes (tiny, peeled new potatoes, laced with butter and sprinkled with dill). Josephine fell madly in love with those potatoes; she literally ate them all over Sweden and Denmark and is still talking about them.
So, while I'm pretty sure we're not the best buffet candidates around, we had a wonderful time.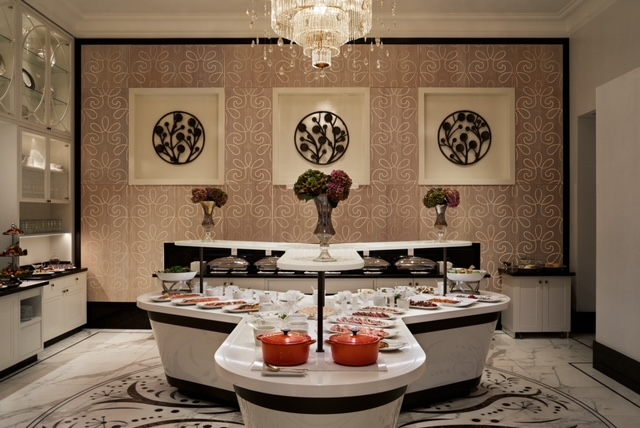 Pelikan is a bastion of classic Swedish cuisine. It's the go-to for incredible meatballs, steamed cod, potato dumplings, and so forth. Eating there, you sort of feel like you've stepped back in time. It's a super old restaurant. Although the current structure has stood for just 110 years or so, which isn't crazy, Pelikan as an eatery dates back to 1664, when it was a pub and wine cellar. Even today, you can feel the vintage quality of the establishment.
The menu is so hearty and traditional that you're transported to a time when people didn't know what carbs were, and the waitstaff is so adept at juggling the heavy, cast-iron pans that bear most of the meaty entrees that you can imagine they've been working there for centuries. The cocktail menu is also notably traditional, offering such aperitifs as a Sidecar, a Vesper martini, and a Negroni. No fancy G&Ts or cosmos in this joint. And the martinis were excellent.
The food was also great, if maybe a bit like lead in the stomach later in the evening. Johan told us to order the toast Skagen, a very typical Swedish dish, comprised of teeny-tiny shrimp, mayonnaise, and bleakfish roe. What's a bleakfish? I didn't know, either — had to look it up. It's just a little silver swimmer, nothing to write home about, but the Swedes love it on toast. Anyway, I'm not a fan of mayo, but I thought the toast was very good; Jamil loved it. We also ordered the meatballs because, as it turns out, Swedish meatballs are even more popular in Sweden than they were at 1970s potlucks. Pelikan has clearly perfected the recipe because they were fabulous. Who knew that a few gooseberries could pack such a punch?! We ordered a few other things, as well, like the pork knuckle, the venison, and the potato dumplings. Everything was delicious. It's not stuff you can eat every day, but it's a must-visit when you come to Stockholm if you want to understand Swedish comfort food.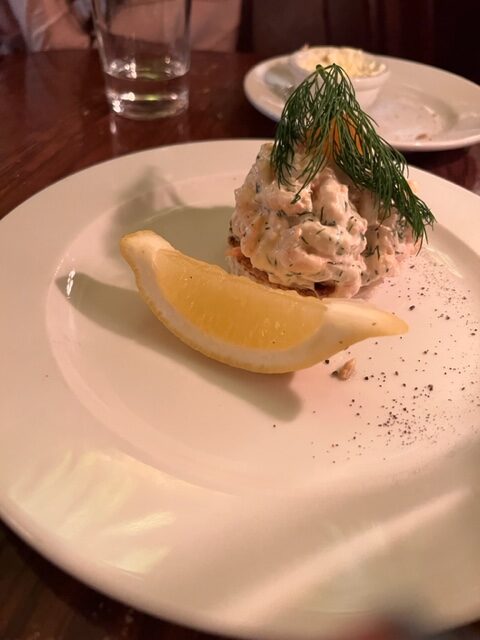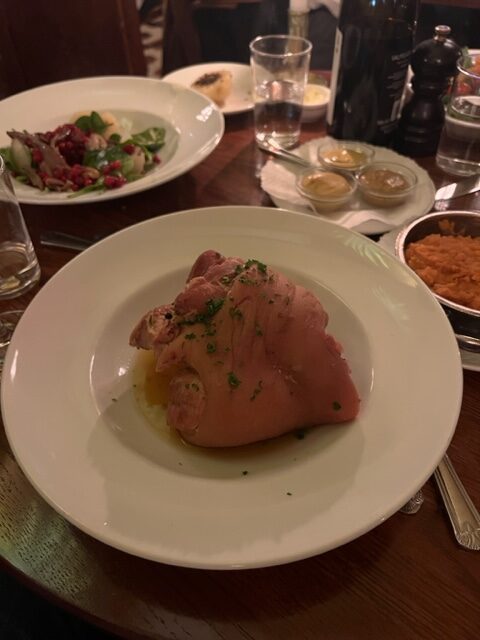 This was the best dinner we had in Stockholm. Riche is super hip, so hip that we couldn't get a reservation on our own. Thankfully, the concierge at the Grand has a little pull, and we got a primetime spot and a great table. Everything about Riche is cool, from the art to the cocktails to the appetizer and entree selections, but it wasn't so hip that Josephine didn't feel welcome. And don't let its hipness fool you! Riche is over 100 years old. It's a true institution of Stockholm's culinary culture, serving celebrities, politicians, hipsters, and wayward tourists.
We ordered a whole host of things because the menu was so alluring. We started with the white asparagus appetizer, which blew our minds. We didn't know it was white asparagus season, and let me tell you, this white asparagus bears no resemblance to anything you've had in the past. We've had white asparagus all over Spain. It's always canned or jarred. I always wish that it would taste wonderful, but it never does. Well, it's canned or jarred in Spain because it's a long way from Sweden and Denmark to Spain, and I don't think white asparagus travels well. In Sweden and Denmark, the white asparagus is crisp and delectable. It's got the mildest of asparagus flavors. It marries well with practically any sauce. At Riche, it was served in a buttery sauce, topped with toasted, slivered almonds and chervil, among other microgreens. We all loved it so much that we continued to order it every time it was on a menu — always with great results.
We also got a steak tartare that's a staple at Riche, and Josephine tried her first escargots. Laden with finely shredded Parmigiano Reggiano and dollops of creme fraiche, the meat was fresh and flavorful. I think I've always sold Sweden short on beef, but I have no idea why. They've got more claim to the cow than Americans do, considering the cow only arrived in America in the 15th century, while it's been grazing in European pastures for millennia. As for the escargots, I can't say it topped many I've had in the States or France, and I wish I could have given Josephine a more decadent intro to snails. She didn't hate it, but she didn't ask for another.
Our entrees were all fabulous — Jamil got a halibut, and I shared a vegetarian risotto with Josephine. Everything was cooked and seasoned perfectly. Then, we enjoyed the after-dinner aquavit, served in a bowl of crushed ice — the perfect digestif.
Don't miss Riche!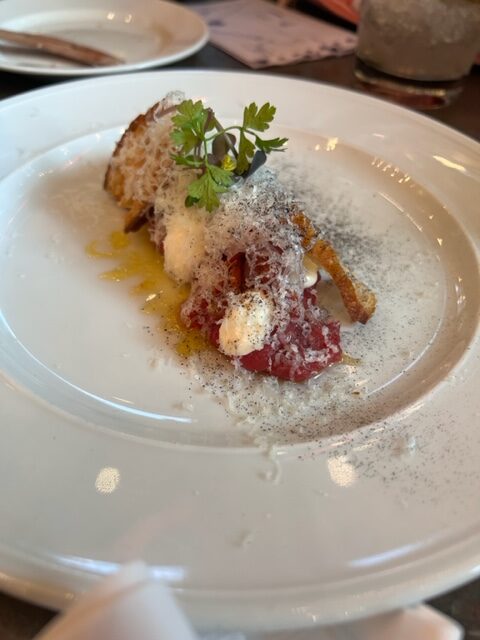 Astoria was another one of Johan's recommendations because his very discerning mother loves it. I could see why. It's super cool.
We sat in the bar area of the restaurant because I stupidly canceled our reservation and then had second thoughts. By the time I got back on the website to rebook, the table was gone. Note to you: don't let a reservation at Brasserie Astoria go. So we sat in the uber chic bar area. There was a pretty skillful DJ who played a mix of yacht rock and pop. There was lush greenery dripping from the ceiling. There were beautiful people everywhere.
The drinks and food were quite good, especially the truffle pizza we ordered for Josephine. That's always her pick if it's on the menu. I also got mussels because I cannot resist seafood when I'm near the water in a cold climate. It's always so fresh. The rest of the meal wasn't terribly memorable, but I'd still recommend it. The service was solid, and it's an easy walk from the Grand Hotel, right in the shopping district of Ostermalm. Overall, a winner.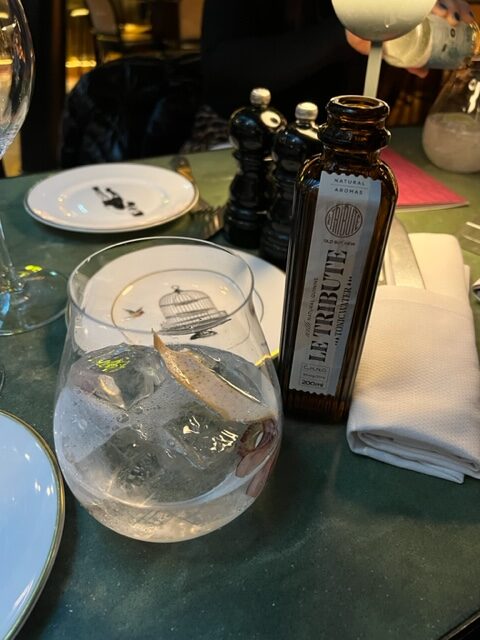 Lunch Spots:
This is another classic spot in Stockholm. Lisa Elmqvist is located inside the pristine Saluhall of Ostermalm. It's essentially one of those quintessential European markets with various vendors of seafood, meats, cheeses, vegetables, fruits — you name it — only the Ostermalm Saluhall is kind of obscenely clean. Yes, that's a thing. There aren't any peculiar odors; there are no flies. There are no seeds, wrappers, or napkins on the floor. If anything can serve as a symbol of the difference between Scandinavia and Southern Europe, it's the Ostermalm Saluhall. This place is literally gorgeous and spotless and amazing.
Lisa Elmqvist is kind of a crowning gem for the Saluhall. Like Pelikan and Riche, Lisa Elmqvist is a deeply entrenched Stockholm establishment, serving the highest quality seafood in the city for over 100 years. It even provides seafood to the Royal Palace. That's about as great a compliment as a fish shop can get!
Per usual, we tried an array of things. We ordered the petite shrimp that we'd soon learn were practically culinary mascots of Denmark and Sweden. They were a bit challenging to peel, given their tininess, but we got the job done, and they were excellent. Sadly, even shrimp that delicious and sweet couldn't sway Josephine from her staunch, anti-shrimp position. She turned up her nose at them. We also had to try the salty cold-water oysters, which were clean and delicious, but I can't help but miss Gulf oysters, which are rarely fishy.
For main courses, Jamil got the smoked eel with scrambled eggs and rye toast, which he adored, and I got the poached salmon plate to share with Josephine, as well as a bowl of Josephine's prized new potatoes with dill. Again, the food was fabulous, if more than we could really consume.
As I type this now, I wish I could just have one more bite of that salmon. Why did I leave it on my plate? Surely, my stomach could have stretched a centimeter more!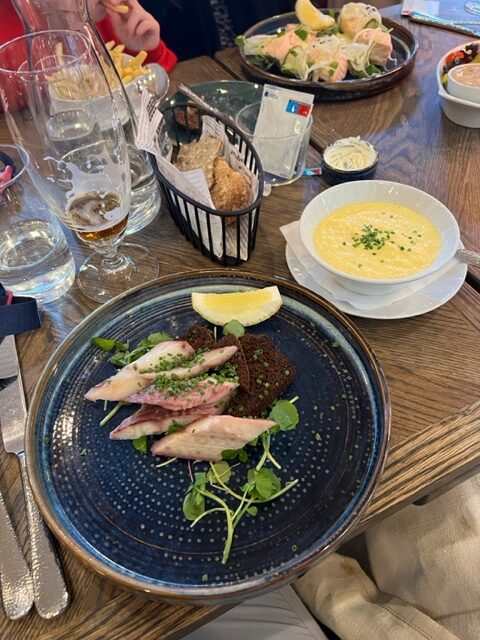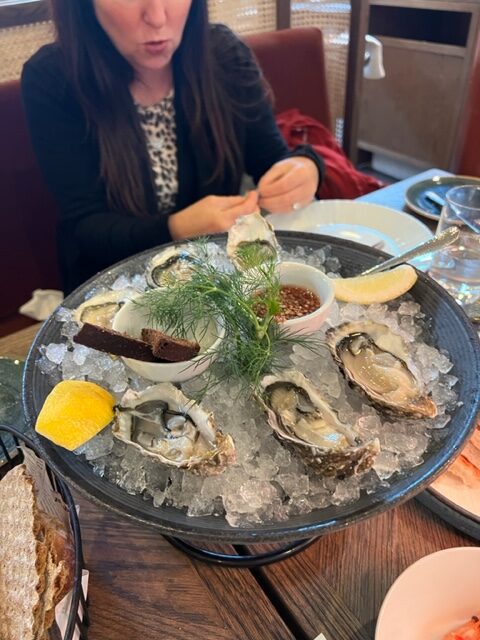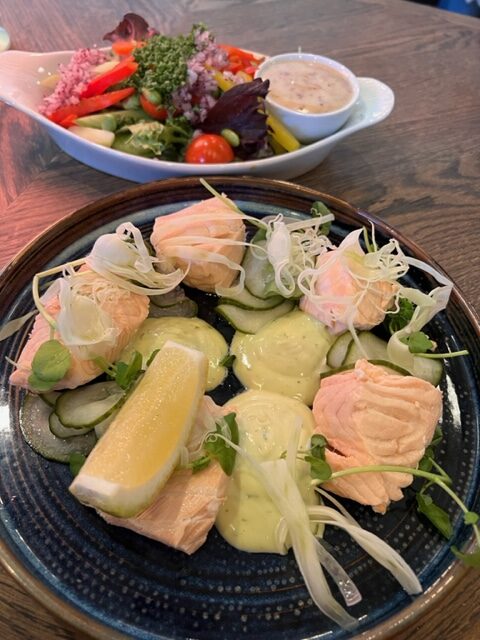 Strandhaxan
This was such an unexpected lunch win. I really couldn't believe it. It's right by the bridge as you walk off the island where all the museums are, on the banks of the canal. It looked like a pretty crappy sandwich shop, but Josephine was starving and irritated, so we had to stop. She couldn't wait another minute. The menu here is tiny. Just a few sandwiches, including what the restaurant claims is the best grilled cheese in the world. It really might be! We got that and a prosciutto sandwich and prayed for the best. It was such a happy surprise. And the atmosphere was beyond lovely. Everyone was out and about, reveling in the beautiful, sunny warmth of summer. There was so much vibrance and activity that it's hard to imagine that it's shrouded in cold and dark for most of the year. If you're at the ABBA Museum or the Vasa Museum, definitely check this place out for lunch. It's all good here!
We also stumbled upon Mahalo, a bustling, hole-in-the-wall vegan eatery. As it turns out, Sundays are pretty slow in Stockholm. A lot of restaurants are closed. Almost all the shops are closed. It's like another world.
Since everything was closed, we set out to explore Sodermalm, the hipster island in Stockholm, where Lisbeth Salander lives in the Stiegg Larssen books. I'd read about a flea market there that looked cool, and a big park where Josephine could run around. Along the way, we started looking for restaurants for lunch, and this was one of the few places that were open.
I'm so glad we found it! Josephine craves Asian noodles and adores tofu. I knew she would jump at the chance to eat the Mahalo "Knivsoder," described as "glass noodles with fresh herbs, red cabbage and carrot served with fried tofu, peanut sauce, avocado, mango, cilantro and peanut sprinkle." And she did. Jamil was psyched about the Peas and Love dish, which included falafel, hummus, eggplant, and a bunch of salad-type goodies. I went for the baked oatmeal with oatmilk and puffed quinoa. We felt great about ourselves as we walked out of there — nothing heavy or grimy about that meal.
I believe the restaurant has two locations. It's an excellent stop for a healthy lunch, and with all the butter, cream, potatoes, and so forth that you may eat in Sweden, your heart will thank you for the opportunity to reset.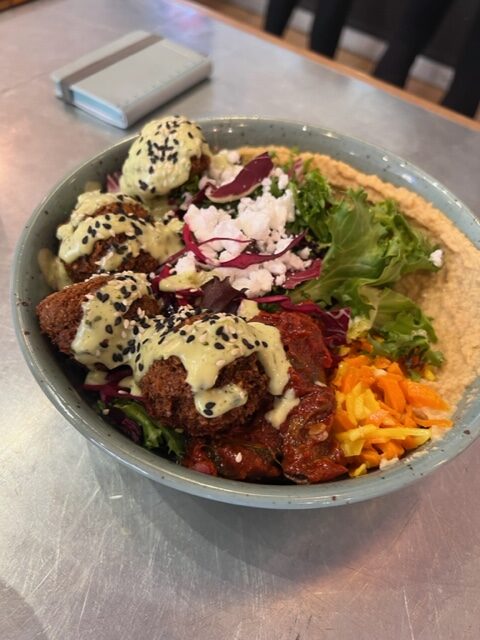 Author: Jessica Givens