New Year's in Athens
After spending two separate New Year's Eve celebrations in Athens, I feel somewhat able to offer advice for how to ring in the event. First, you should note that the city is lively on New Year's Eve, but it's not insane. It's not like trying to book the impossibly sought-after reservation in New York City or Paris. Nor is it a city of the fixed price soirees that we found in Barcelona and Banff. On the contrary, Athens is a casual city of locals who want to ring in the New Year with family and friends, but without excessive pomp and circumstance. That said, the Grande Bretagne, where we stayed on this past trip, offered two very high-dollar options, one in the beautiful downstairs tearoom and another in the glass-enclosed aerie of the rooftop bar. They were between 250 and 380 euros per person, and we just couldn't rationalize spending that much on a menu that looked less than appealing, especially when we're hardly people to party until the wee hours and truly appreciate the planned festivities.
This year's upscale experience:
To decide upon a place, we articulated what mattered to us: a great view of the fireworks over the Acropolis, terrific food a la carte, and some measure of glamour. After a great deal of research, we decided upon Strofi, a highly acclaimed restaurant right behind the new Acropolis Museum.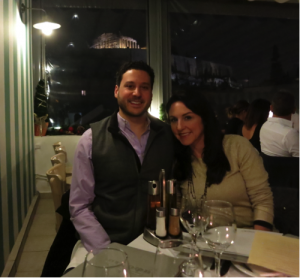 I have to admit, I was worried. I couldn't tell if the rave reviews were overstated, perhaps written by pedestrian tourists who would praise any old dolma or saganaki. But I decided we would brave it. It turned out to be fabulous, absolutely one of our best New Year's experiences ever – and that's really saying something because we have made some pretty wonderful December 31st memories (but that's another post). We had a perfect view of the Acropolis, and although the Greek government doesn't have the money for an American-style firework extravaganza, the spectacle is emblazoned in my mind as a glorious combination of the ancient and the modern. We popped a bottle of good champagne and listened to the Greeks sing some happy, traditional songs. There were no downsides to this meal or to the restaurant itself. We would go back without hesitation.
The more earthy experience of 2 years ago:
When Jamil and I went as a twosome, we were looking for the nitty-gritty New Year's Eve of the Athenian people. We went out around 11:30 and perused the streets of Monastiraki (possibly a dangerous choice, but we were keeping a low profile). All of the restaurants were packed with families and couples, with solitary musicians strumming guitars and singing folk songs. We selected a small restaurant on the corner of Ermou Street, called Dipylo. There were people of all ages, and they literally smoked and partied until the sun came up. I remember eating a simple Greek meal that night, nothing fancy, and drinking Greek table wine. However simple the fare, we were surrounded by an element of authenticity that I have rarely experienced on New Year's Eve. In fact, you'd be hard pressed to find such an opportunity in a snootier European city. Athens is, for at least a little while longer, a forgotten paradise.