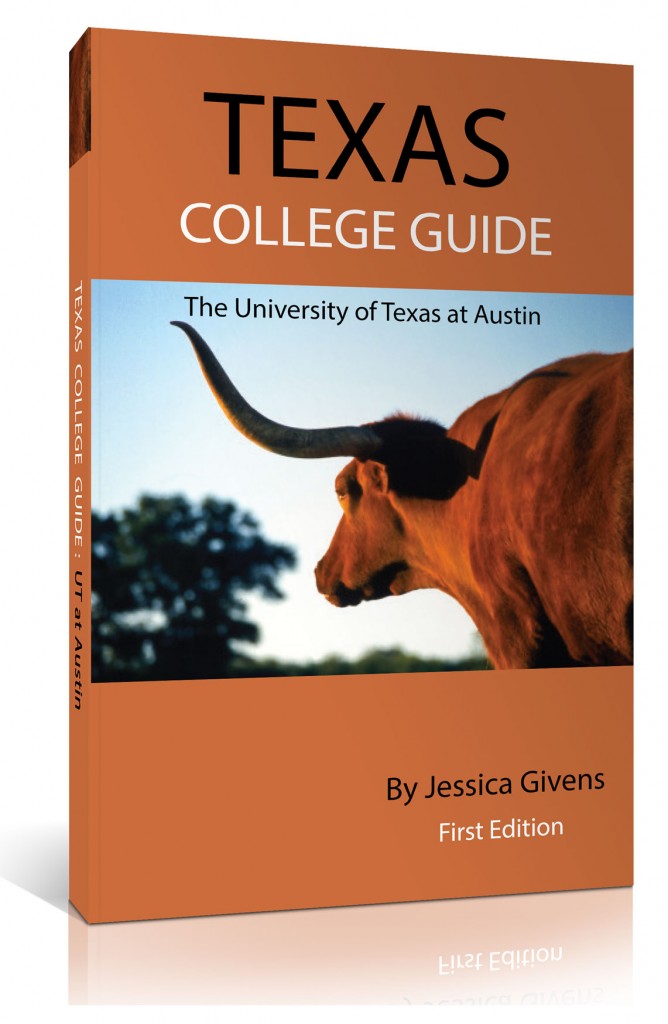 We are really excited about this new book – Texas College Guide: The University of Texas at Austin. Jessica decided last summer to sit down and write a book about everything she has learned about applying to UT from her years of experience. She was also able to collect information directly from the University and its various schools to pull together all of the information Texans need to understand the system and plan for success. Here is more about why she wrote the book:
"After years of working with students and achieving a very high success rate of helping students gain admission to UT Austin, I have seen that a proven track record of involvement and focus in a given area can provide students with a real edge in admission to UT, and I've really had it with deception and subterfuge. UT applicants – you or your kids or your grandkids – are real people with meaningful histories and experiences that merit an honest and comprehensive display. However, you also deserve to understand what makes an applicant competitive for a given major, so that you don't waste your major selection on choices that are absurd long shots. Next, you need to understand how the majors are different, what types of careers they cultivate, and what sorts of job and income prospects you'll have after graduation. Finally, you need to know the other options that exist for paving a pathway to the University of Texas at Austin, because a rejection letter as an incoming freshman is not the end of the world, nor is it the end of the story. And, that's why I've written this book, to give you the information you need and to prevent you from falling victim to shysters in this dodgy day and age of admissions chicanery. Additionally, I've fact-checked every aspect of my work with the University of Texas, combing their website for content and keeping in close contact with admissions and various UT departments. This book is a one-stop reference for UT major selection and admissions." 
We hope that students (and their parents) enjoy this book and feel informed about the admission process at UT. And if you are a prospective Aggie: don't worry, this book is the first in what will be a series!
Click here to read more about the book on our website.
or
Click here to buy the book on Amazon.