Texas College Application Toolkit
Students have the chance to explore all of their post-secondary options through this guided tutorial that matches online videos and lessons.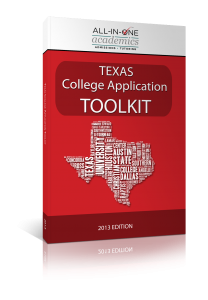 We're excited to announce the upcoming release of our Texas College Application Toolkit! This unique toolkit includes a soft-cover workbook and web-based videos and lessons designed to give students an understanding of what their options are after graduation from high school. From covering the definitions of key terms to providing questions to ask when writing the ApplyTexas Application essays, this toolkit covers all the aspects of the college application process and is ideal for high school students looking to educate themselves on the college admissions process.
– Explore options for college
– Online lessons with video instruction
– Expert tips and guidance
———————-
At this time, we expect your copy to arrive in approximately 10 days after you place your order. When it arrives, it will include instructions on how to unlock the web portions of the toolkit.
Topics covered in the toolkit include:
– Why you're lucky to be living in Texas
– Standardized testing
– Fee waivers and money for college
– The ApplyTexas application itself
– Certificates and two-year programs
– Transfer planning
– Four-year options and college research
– Key components of the application
– Your resume and each of the three essays
– Letters of recommendation
– Campus visits
Each lesson is accompanied by web-based information and videos, creating an interactive learning experience.
———————-