Texas College Application Toolkit

Welcome to the All-in-One Academics Career Planning and College Application Toolkit! We're excited to have you here.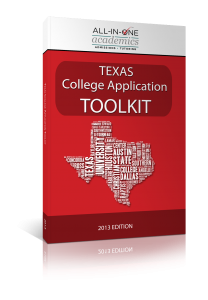 With this guide, you will gain valuable insight into college admissions and application process in the state of Texas. With videos and interactive webpages, use your workbook to uncover all the questions that high school students have about college admissions.
You can order your copy of the toolkit here or on Amazon.com
For those of you with the workbook
Please select the appropriate button below to start the registration process for the course.
I'm new to the website and don't have an account
I'm logged in but don't have access to the toolkit yet
I already have access and wish to enter the course