One-on-One SAT & ACT Prep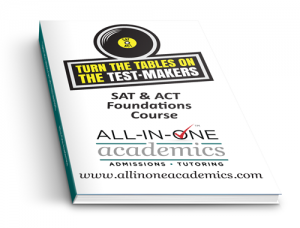 Our instructors have worked with big-name test prep companies and in classrooms and know the ins and outs of both the SAT and ACT. Our individual test counseling is recommended after a more traditional course so that the time is used most effectively in the areas that need it most.
We have a special test preparation program, called "Turn the Tables on the Test Makers," which resulted from a think-tank operation by three veteran test prep instructors.
We run courses for groups or for individuals.
Our packages for individual students start with 20 hours of tutoring to give students a platform to approach the SAT and ACT.
 A la Carte Tutoring:
Pinnacle tutor: $220/hr.
Standard tutor: $140/hr.
Plus a one-time materials charge of $75.
Here's some information about Errolynn Zetar, our senior test prep instructor, along with some helpful test tips!

For more information or to get started, please call us at 713-405-1193 or send an email to info@allinoneacademics.com.