We only children often look longingly at larger families, particularly on vacations, when we see brothers and sisters laughing and joking, making shared memories that just don't happen for us. Josephine is really such a good sport. She colors and draws when we go out to eat; she takes pretend notes on little notepads when we go on tours; she poses for fun solo pictures at monuments. But I know she wishes she had a partner in crime – at least sometimes! So, when our good friends, Lindsey and Andy, asked if we could take an adventure with them and their daughter, Lochlyn (also an only child), over the Christmas break, we leapt at the chance.
We pondered a few different destinations, but we landed on Spain because Jamil and I know it so well and because neither Lindsey nor Andy had ever spent much time in Madrid, one of my favorite cities on Earth. I wanted to show them around. Additionally, it was Lochlyn's birthday on December 28, and I wanted to make it amazing, since she'd never been able to celebrate with friends before.
Because Lindsey and Andy weren't familiar with Madrid, I set out to plan Lochlyn's birthday activities. I wanted to do something historical, something just plain fun, and I wanted to introduce Lochlyn and her family to phenomenal Spanish food.
We started the day by walking to the Palacio Real, where we had hired a guide to give us a private tour. The Palacio Real in Madrid is really special. With 3,418 rooms, it's absolutely gigantic, the largest in Western Europe, and they rotate which rooms are available to visit, so you can see something different each time you go. It's also fully furnished (at least, it is in the parts open to the public), which is very unusual. Normally, when you visit a castle or a palace, it's empty; you have to use your imagination about what kinds of fineries might have filled those cavernous spaces. At the Palacio Real, you can see the original furniture, the art, the workmanship. You can also marvel at the Royal Quartet, a collection of decorated Stradivarius instruments, 4 of only 11 such pieces in existence. In addition, you can enter the throne room and see where the King and Queen of Spain still receive guests today. None of that is on view at Versailles. Oh, and because it was Christmastime when we went, the palace was displaying its full nativity scene, which dates back to the 1700s. It stretches all around a massive room and has elaborate scenes of daily life in the Enlightenment Era. You should make this a must-see on a winter trip to Madrid.
(The guide made all the difference, by the way. We found him through Babylon Tours, and his name was David. You should definitely request him if you want a tour of Madrid, any tour at all.)
From the Palacio Real, we made our way to lunch at Cervecería Cervantes, our all-time favorite, very traditional tapas bar in Madrid. Cervantes always has an intimidating line stretching out the front door, but it's usually not as bad of a wait as you might think, and it's totally worth the effort. Cervantes bustles with energy, Spaniards of all ages congregate around tiny tables on rickety wooden chairs, devouring the finest tortilla espanola and pimientos de Padron in the city. We adore the boquerones (pickled anchovies), the setas (oyster mushrooms) with jamón Serrano, the Ensalada de la Casa, the pulpo a la Gallega (steamed octopus with potatoes and paprika)… Really, it's all fabulous. Drink the house Rioja wine or have a cana of Mahou beer. Prepare to stay a while and order a ton.
Clearly, I love it there, so it was a no-brainer for Lochlyn's birthday lunch. Josephine tried with all her might to convince Lochlyn to fall in love with the fried pimientos (but failed). Lochlyn enjoyed piles of jamón and loads of tortillas. We were all totally satisfied, and it was exciting to see Josephine share her passion for Spanish tapas with a friend.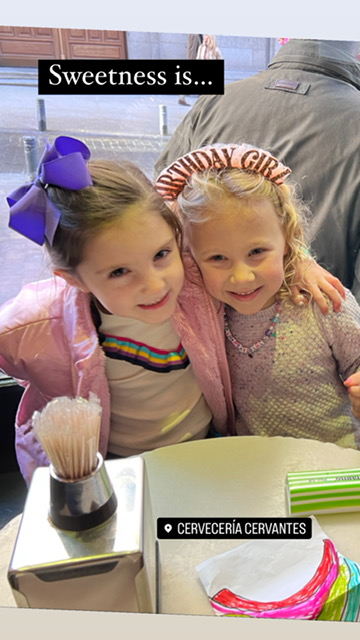 If you have that kind of elaborate lunch in Madrid, you'll be thrilled that it's such a walking city, because you'll need a ton of steps to burn off those calories, and winter is ideal in Madrid to do that walking. The temperature ranges from the high 30s in the wee hours to the high 50s when the sun is at its zenith. The major sites are scorching-hot in the summers: in July, you might literally melt in the Puerta del Sol or spontaneously combust in the Plaza Mayor. So winter is really the time to explore. With Lindsey and Andy that day, I walked over 23,000 steps. We might have done even more, except that their stroller got lost in London, so Lochlyn and Josephine had to alternate using ours. A six year old takes a lot of breaks!
Jamil took full advantage of that tendency by planning an interlude at Ikono, a house of illusions in the same plaza as the Reina Sofía museum. While Lindsey, Andy, and I popped into the Reina Sofía for a quick viewing of Picasso's Guernica, Jamil took Lochlyn and Josephine to Ikono, where they jumped in a ball pit, stood on "the ceiling", and generally goofed around. By the time we finished, we barely had enough time to scurry down the Paseo del Prado, past the festive light installations, to our hotel to get ready for dinner at a restaurant that never, ever disappoints (although vegetarians might disagree).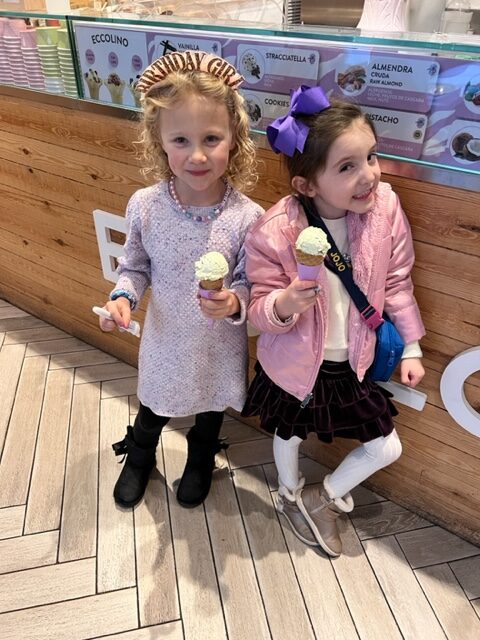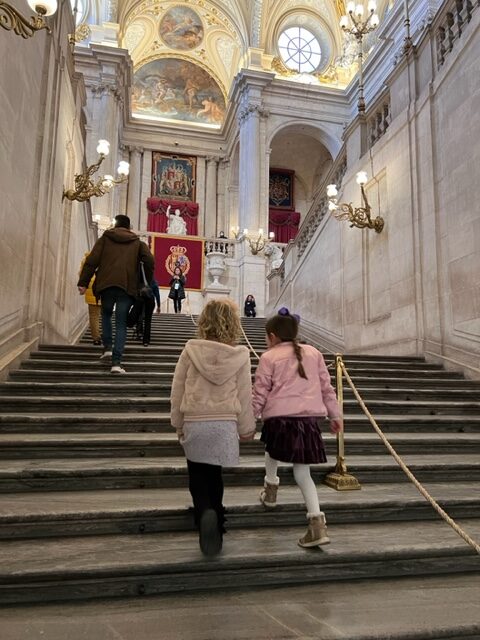 As soon as we knew we were heading to Madrid, I called El Landó to make a reservation for her birthday. El Landó doesn't do online reservations. I always call, but I'm pretty sure they now also do WhatsApp because I've gotten WhatsApp messages from them to confirm my reservations. That might be easier for travelers who don't speak Spanish. El Landó itself might even seem a little intimidating to some travelers because it's pretty old school. Think dark wood paneling, white tablecloths, waiters in suits. But it isn't really stuffy at all; everyone speaks English, the menu is very easy to understand. It's just old school.
You go to El Landó for a few things: the tomato appetizer with garlic, the huevos estrellados con jamón (french fries topped with scrambled fried eggs and ham), and the steak. We usually get the churrasco cut, which I think is related to the ribeye, but I'm not sure. Lindsey also ordered the solomillo, which is the closest thing to our filet mignon. They come piping hot and crusty, surrounded by mounds of chunky salt. It's astonishingly delicious. Always order the house red. It's great and so reasonable — maybe 30 euros! If you have room for dessert, the flan is wonderful, and they certainly served it with style for Lochlyn's birthday, adding a giant flare to the top. I watched the spectacle while sipping incredible brandy, warmed over a snifter. As we left, I reflected on the many meals we've had at El Landó, from New Year's Eve dinner to welcome 2016, not knowing I was pregnant, to our anniversary dinner in 2018, to a celebratory welcome of Chris and Carlos to Spain in 2019. It's always consistent, always posh, always memorable. You should go.
And THAT was Lochlyn's birthday!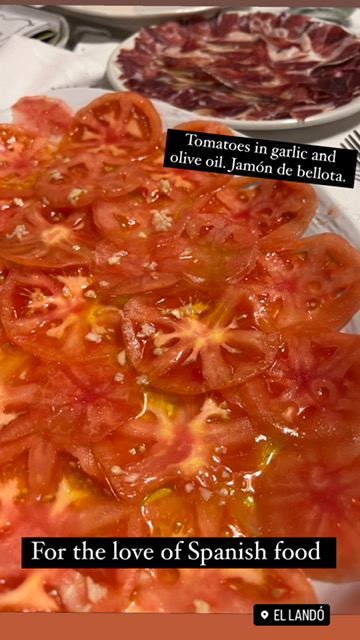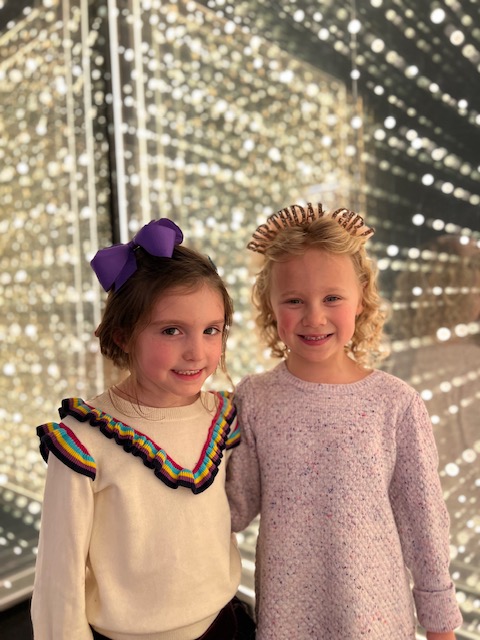 Author: Jessica Givens.