Our Favorite Restaurants in Rome (and yes, we take a child)
We go somewhat off the beaten path to eat in Rome because we stay in a neighborhood, called Parioli, that's not so popular with tourists. It's very near the city center, but it's not exactly in the mix. We really like it over there. It's just a fifteen minute walk through the Villa Borghese, and we invariably pass by children playing on a playground or a puppet show. So it's a fun walk. Plus, we've made that walk so many times, I don't even know what we'd do if we stayed closer to the action.
Parioli is amazing for restaurants because people actually live there. It's where the embassies are. It's where the Prime Minister's residence is. People go out to eat well there. If you happen to venture to any of the following spots, I think you'll be glad you did.
Al Ceppo exudes an old guard vibe. Around the room, you're likely to see businessmen pressing the flesh right next to families celebrating the holidays. It's a well-heeled crowd, definitely not one down with ripped jeans or disheveled appearances. Some people might find the old-school wood paneling and the formality intimidating, but we love it. And the food is anything but stodgy. The soft egg with parmesan cream (pictured) is phenomenal and different, and the puntarelle salad is perfect. Puntarelle shines on Roman menus only in the winter, when the winter chicory blooms; the Puntarelle a la Romana salad consists of thinly sliced, slightly bitter chicory, laced with salty anchovies and pungent olive oil. I cannot recommend it enough. However, at Al Ceppo, Josephine's vote is for the truffle pasta, smothered tableside in forest fresh, shaved black truffles. Everything on the menu is fantastic. It's worth the cab ride.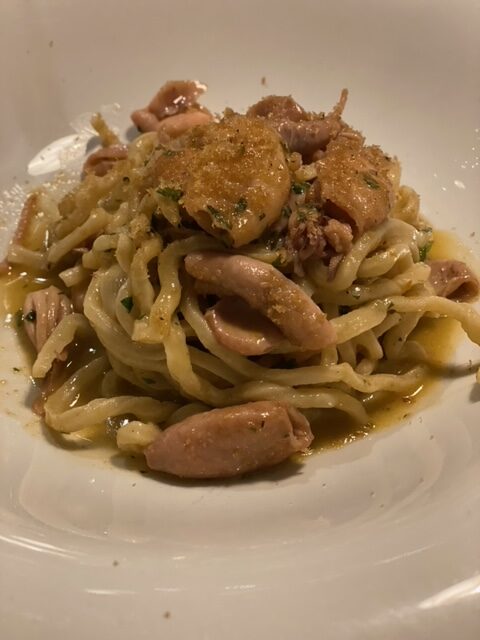 This may be my favorite restaurant in Rome. It's casual. It's laid back. It's open until midnight. I wouldn't recommend it for New Year's, which we tried to do in 2016-2017. It wasn't great because the food there is really suited for sitting around with large portions in the center of the table, not in a prix fixe setting. But otherwise, it's been amazing.
At Ambasciata d'Abruzzo, you'll be surrounded by locals of all ages. We see young people coming in at 10:30 for a meal; we see old people sipping Brunellos until all hours. Everyone enjoys it.
What I would recommend the most are the pastas, particularly the Rigatoni alla Gricia (at least I think it's rigatoni — the gricia sauce is basically good with anything). "Alla Gricia" is a traditional Roman preparation of guanciale (cured pork jowl), pecorino cheese, and black pepper. The sharp saltiness of the pecorino and the crunch of the guanciale make my toes curl. I love it that much. It's actually good even when it's bad because it's so hard to go wrong. However, at Ambasciata d'Abruzzo, it's at its finest. Josephine loves the Bucatini all'Amatriciana, super fat, long noodles, covered in tomatoes, guanciale, pecorino, and black pepper. It's just a tomato-laden Gricia sauce. You'd also be missing out if you didn't get the house-made mozzarella with prosciutto and the carciofi alla Romana (the most tender, delectable artichokes in the world). Jamil would also say to get the Maialino, which is suckling pig, served with crunchy pan potatoes. You really cannot go wrong.
What makes it even better is how reasonable the wine list is. You can get a delicious Ripasso di Valpolicella for probably $30. And I'm sure dessert is outstanding, but to tell the truth, I've never made it that far. My stomach taps out!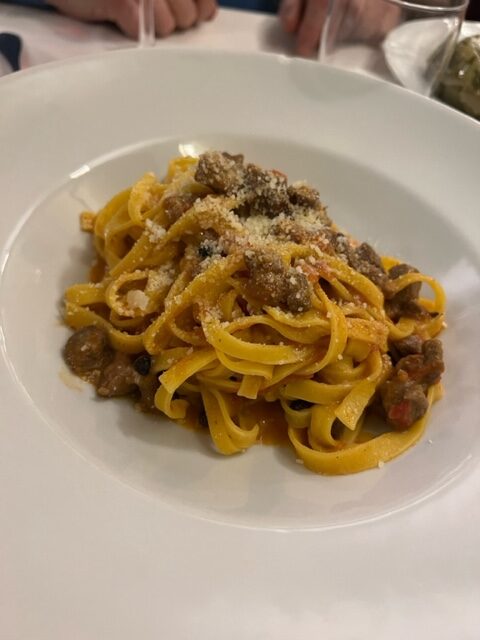 I've now spent two birthdays here, and I'll probably do it again next year, given the opportunity. Gallura offers absurdly fresh seafood of every variety, from squid and baby octopus to sea urchins and all kinds of fish. When you walk in, there's a wall of glass to your left, where you can watch the chefs in their spotless kitchen as they prepare the most gorgeous seafood dishes I've ever seen outside Japan.
As for the food, it's really remarkable. The fritto misto of seafood is crisp, airy, and perfectly salty. As Americans accustomed to paltry shellfish offerings of shrimp, scallops, and oysters, with calamari and octopus as daring additions here and there, we gawk at the array of crunchy crustaceans Gallura serves up so unprepossessingly. The crudos bear not a hint of fishiness. The catch of the day shines in black truffles and porcini. We've ordered many other things on the menu, and they've all been excellent. Plus, the ambience is elegant, and the owner is always there, overseeing each dish. She's attentive and exuberant. It's just a good vibe.
I think it's an ideal place to spend Christmas Eve because Italians are known for celebrating the Feast of the Seven Fishes that evening. No one really knows exactly what those seven fishes are supposed to represent — the number of sacraments, the seven days of creation, the seven virtues, the seven deadly sins and the seven days it took Mary and Joseph to reach Bethlehem before baby Jesus was born — maybe any number of those things. In any case, I love seafood, so I'm into a feast of fishes, especially at Gallura.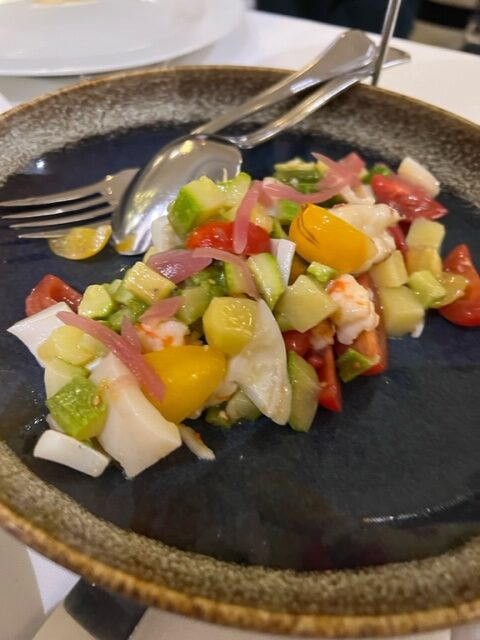 The word is really out on this place. It's so good and so centrally located – literally right next to the Pantheon – that it was destined to explode. Reservations book a month in advance, and I highly recommend that you get on that bandwagon because it is so consistent. I haven't had too many dishes here because I generally order pasta. You cannot go wrong with Spaghetti alla Gricia or Cacio e Pepe. I will say the menu is somewhat organ-heavy, but remember, Rome was traditionally a very poor city. The people were poor. The food was poor. I just don't go out of my way to eat lungs, so I won't order that, but you totally can!
We have only been to Roscioli once, but it was a giant hit. Josephine insisted on ordering the spicy sardine appetizer, and she devoured the entire plate. I'm not even sure I got to try it. However, we did get to share the rigatoni all'Amatriciana and the pan-cooked octopus, while Jamil enjoyed the carbonara pasta. Everything was perfect.
I also loved the setup of the restaurant. There's an active deli at the front, where you can check out the meats, cheeses, and other cured items the restaurant serves. Then, the restaurant itself is narrow and a little tight, just what I'm looking for in Rome's city center, somewhere bustling and vibrant, where I can hear Italian in the air.
All told, Roscioli is an excellent option in the city center. It's popular, though, so make a reservation!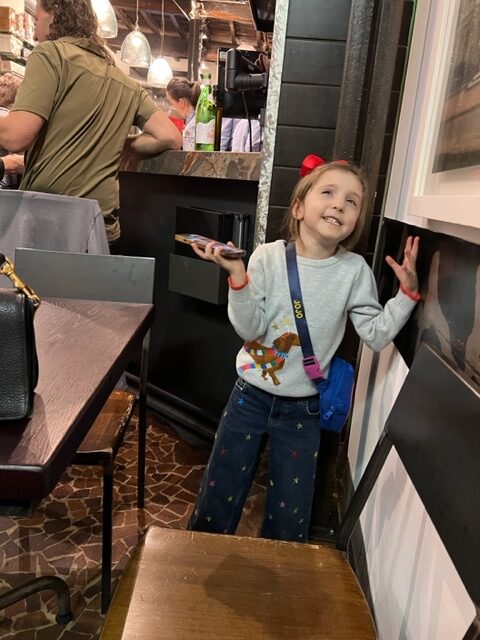 Author: Jessica Givens.