PART 1
Jamil and I have a passion for working with kids, but we also have a passion for travel. And not just any travel – educational travel. I know it sounds nuts, but even when we're not working with students on academic subjects, we're learning, and we're doing it by immersing ourselves in other cultures, venturing off the beaten path, and getting as much input from locals as possible. What may also separate Jamil and me from other travelers is that we quite often go with my parents. Traveling is so wonderful when it's a family affair and when everyone can see the same sights and share the same memories.
For years, we have been writing down our experiences at the universities we visit – both in the states and abroad – but this year, it really struck us that we have some important insights to share about how to transform a family vacation into an amazing educational adventure. I have to warn you that, yes, we travel in style. We work our tails off, and our family vacations are our great escape. Plus, my parents are a little particular. You don't have to stay in the hotels we recommend, but we'll tell you WHY we selected the hotels we did and the methods we used to make our picks. At the same time, you don't have to use our tour guides. Do we think they're the best? Yes, but there are lots of services, and you definitely don't have to do private tours. We just enjoy slightly more autonomy and prefer to avoid large groups.
Let's start with a trip to Italy that might be a little different from the mainstream.
Here's our route:
Fly from Houston to London, London to Rome – on British Airways.
Rent a car immediately at AVIS in Rome's Fiumicino Airport
Drive to Florence – yes, we were tired
Spend four nights in Florence
Drive back to Rome
Spend four nights in Rome (including New Year's)
Take a train to Venice
Spend four nights in Venice
Drive back to Rome
Spend three nights in Rome
Fly from Rome to London, London to Houston
While this itinerary may include some of the hottest destinations in Italy, we took some interesting twists. This first post will cover our Florence escape.
As soon as we arrived at the AVIS counter in the Fiumicino Airport, I wondered if I had made a mistake. I can't believe I didn't take pictures of the line, but you can't photograph laziness, and that was the disease plaguing the attendants at the counter. We waited for what seemed like decades and finally got our Peugeot, and I learned a valuable lesson about getting my car at the train station, NOT the airport. TRAVEL TIP: Generally, in Europe, avoid getting cars at airports simply because they charge an enormous markup for the convenience. However, I knew we had a 3+ hour drive to Florence, and I was eager to hit the Autostrada. To set the tone for the trip, I had downloaded an amazing lecture series, "Famous Romans," by the late J. Rufus Fears, an incredible professor who headed the Department of Classics at the University of Oklahoma. I know it's dorky, but we listened to it throughout our trip every time we got in the car, and Fears' lectures brought new life to a city and country whose ruins and monuments I have visited multiple times. He covers incredible people and significant people with an enthusiasm for ancient history that I hope I can one day convey to someone else. Thankfully, my family nurtures this dorky side of my personality, and has even found a way to enjoy the same nerdy presentations!
When we arrived in Florence, we went straight to the hotel, the Antica Torre di Tornabuoni. I selected the hotel because of its Trip Advisor reviews. I'll be honest, I adore Trip Advisor. While sometimes it has led me astray, it's generally up-to-date and savvy. You won't find yourself overpaying for a crummy hotel if you're patient and can flip through the reviews. The Tornabuoni did not exactly live up to our expectations for comfort – although it was quiet and had an amazing rooftop lookout. In the U.S., even the Hampton Inn and Marriott Courtyard have bright-white, crackling bed sheets, and overseas, the laundry system simply doesn't measure up unless you're staying in a super-touristy-oriented hotels.  We were literally in the middle of everything and right next to the Arno. What's to complain about, really?
That night, we ventured out for dinner and saw the magnificent Baptistery across from the Duomo. We were so excited about going into the Baptistery that we ran in and purchased tickets just as the doors were closing. Probably a dumb idea because the deal with those tickets is this: You have six days to use them to see Brunelleschi's Dome, the Bell Tower, the Baptistery, and the Crypt, but once you swipe the tickets, they're only active for 24 more hours.
Don't make the same mistake Jamil and I did, having to purchase the tickets twice. It wasn't the end of the world, but it wasn't exactly satisfying, either. We should've just waited until we had a free day, but we didn't.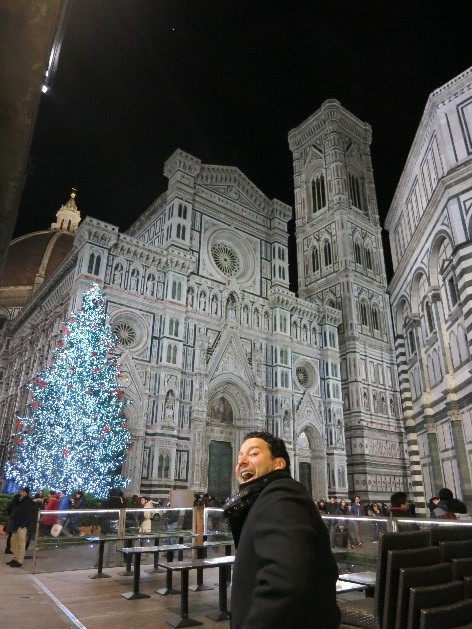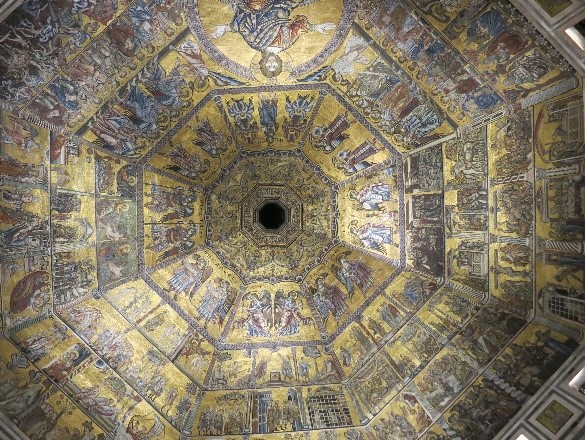 The next morning, we woke up to meet with our guide in Florence, Roberto Martelli. Roberto is possibly the greatest guide anyone interested in Florentine history could ever hope for. We found him through the impeccable Rome Guide service that we used in Rome (more on that later!), and we wound up taking two tours with Roberto – one that was just for Jamil and me and one for my parents. With Roberto at our side, we watched in vivid mental Technicolor as Savonarola burned outside the Palazzo Vecchio and crept into a hidden painting gallery that apparently leads to secret passages that are only open on certain days of the week – we missed it!
For every nook and cranny, painting and sculpture, Roberto had a backstory, a tidbit of intrigue or a tale of woe. Unbelievably, Roberto even made me rethink my perspective of Machiavelli by giving me the facts of Machiavelli's exile and showing me Machiavelli's personal study. Roberto knew facts that obliterated my coarse association of Machiavelli's behavior and belief system with the dogma proclaimed by The Prince. Taking it all in, I looked around at the people who were guideless, wandering aimlessly and picking up only hints of the majesty and history surrounding them. Without Roberto's subtitles for the foreign scenes before me, I would have missed the meaning. I would again pay to hear him tell the same stories, to soak in more of the details and enrich my understanding of the Renaissance and its shockwaves.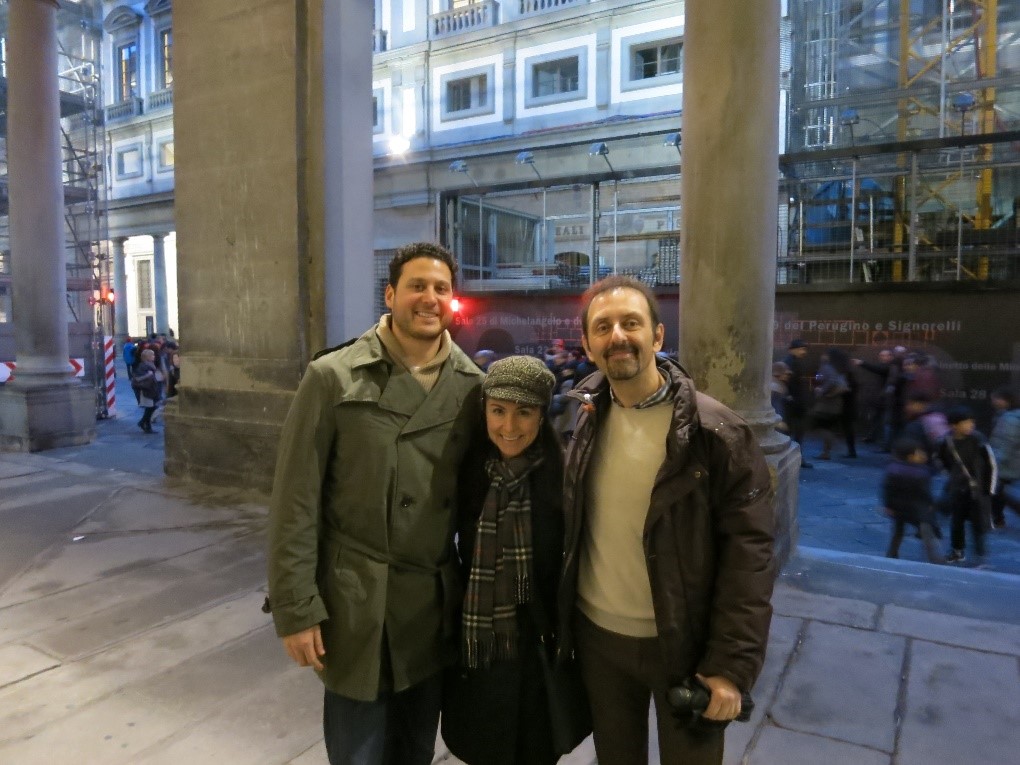 The next day, we drove to another type of shrine, the Prada Space Outlet in Montevarchi. I came here for the first time with my best friend, Jennifer, in 2004 and in 2006. Back then, it was a total hole. And loaded with steals. Now, it's been discovered, and although I scored a rockin' pair of Miu Miu sparkly smoking slippers, I think the bloom is off the rose. I'll probably keep coming back, simply because I like perusing the selection and because it's such a trip to drive through an industrial, unstylish town and come upon a mecca for label seekers. Yeah, I wish I could say the thrill had left me altogether, but if there's just one rad pair of platforms or one offbeat handbag, it's worth the drive down the A1. On that drive we also stopped at a giant supermarket to pick up another necessity: a European flatiron. For anyone with a lot of thick hair, let's abandon any further notions of electric converters for hair-smoothing machines; they blow fuses, and they start fires. I've seen smoke billow out of an unwitting outlet, used and abused by American voltage. Once was enough.
Okay, so back to the historical and educational stops in Florence. We did the obligatory basics: stopping in to pay our respects to Galileo and Michelangelo at the Basilica di Santa Croce, visiting the Uffizi Gallery, and strolling along the Arno. We ate incredible food – recommendations at the end – and we shopped at the phenomenal leather stores on the other side of the Arno. Although I had been to Florence three times before this trip, this was certainly my most magical experience there.
This trip convinced me that Florence is the ideal place for history-hungry students and travelers to visit, especially in the winter. The lines are reduced to less than half, and the weather is fantastic. In the heat of summer, sweaty tourists stick to one another in throngs like gummy bears left in the sun. The stench of the crowd overwhelms. The prices skyrocket, and pickpockets come out in droves. Most of all, the abundance of activity dampens the city's sparkle. Everyone deserves the chance to see a calm Piazza della Signora. Take my word for it; this is a wonderful December destination.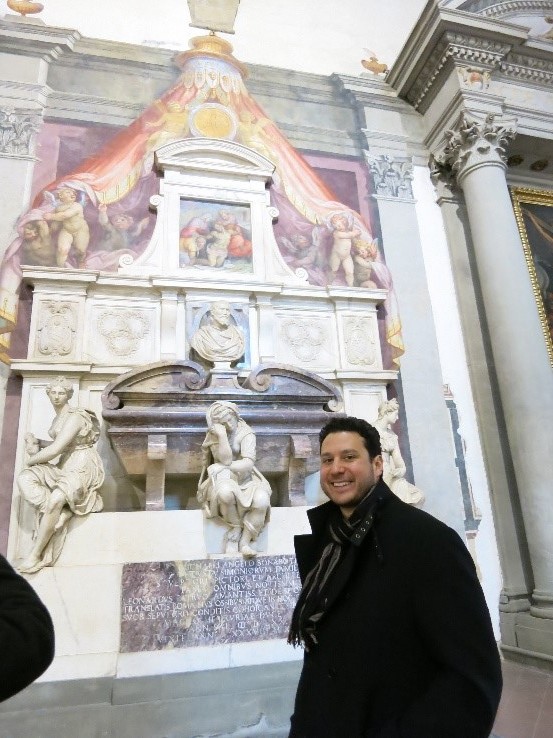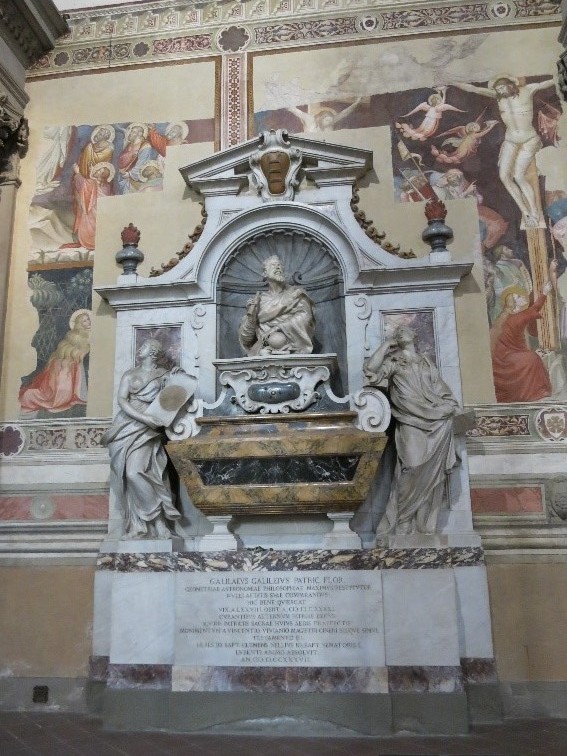 Hotel recommendation:
If you can possibly spring for the St. Regis, it's the way to go. My parents stayed there on their way back through Florence, and it was a premium hotel experience. They had the Michelangelo Suite, overlooking the river, and said it was spectacular. My mom particularly enjoyed the bar downstairs, where she sang with the pianist until the wee hours, so late we could hardly get in touch with them.